During my time with TI, I have spent countless hours with customers all over the world helping them design in TI power products. Typically, a customer will know what the operating conditions are and what performance levels the power supply needs to achieve; size, efficiency, frequency, component count, cost, features.
Optimizing the circuit solution and maintaining high reliability is what good power supply design is all about. Often our Power Design Services team will partner with customers to design and build a power reference design for them to achieve aggressive design goals.
For example, can you fit a 10W charger into a one inch cube and achieve less than 30mW of power consumption in standby mode at low cost!?
Yes, we can and we did. Take a look at the PMP8286. Inside is an AC to USB charger in an "ice-cube" form factor.
The Power Design Services team and I have generated thousands of power supply reference designs similar to the PMP8286, all successfully built and tested.
Last year, we created a free-to-use tool which makes this valuable information available online – Power Lab. PowerLab is a library of power reference designs and includes an easy to use search tool that allows you to find designs by input / output criteria, application type or topology.
In only its second year of operation, PowerLab has become one of the most popular resources on TI's Power website. We have uploaded over 1,100 unique power supply designs and we are quickly approaching 1 million document downloads including test reports, schematics and bill of materials. Some more examples of interesting designs in PowerLab are:
PMP6680- 48Vin, 12Vout @ 20A with 97% peak efficiency
PMP6712 - 1.6kW Dual-Channel Isolated Full-Bridge Converter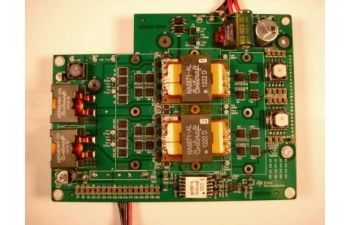 PMP8025 - 230VAC, 10W, Phase Dimmable Non-isolated Buck-Boost PFC LED Driver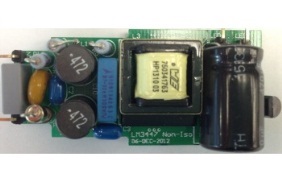 You can use the full tool on the PowerLab website, or you can use the widget that can be found on the Power House home page. It looks like this: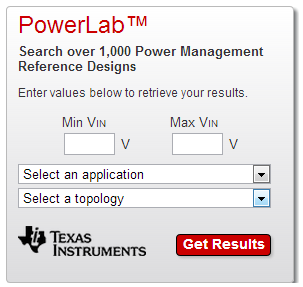 We continue to improve PowerLab to enrich your experience. One new addition we will make this year will be blog posts called "PowerLab Notes" written by two of our top designers, Brian King and Robert Taylor. Topics will include all things relevant to power supply design, some examples are:
Inverting buck-boost

Synchronous LLC

Power meters

Much, much more!
Look for our twice a month posts coming soon.
*EDIT: PowerLab posts have since started. Links to those posts have been added.
Feel free to leave a comment on how we could improve your experience using PowerLab or with future power supply designs.
-Tim
Additional resources: