Other Parts Discussed in Thread:
DLP4500
,
DLPLCR4500EVM
LightCrafter4500-aficionados,
iView Limited has developed a compact light engine for LightCrafter4500 0.45" DMD. To explain the light engine, I have disassembled one of our early units by removing the bottom thermal plate, heat sinks, and driver board. Note that any disassembly of the light engine voids the warranty on the LightCrafter4500 system. Note that opening the light engine allows dust and smudges to collect on the optics. Also, the opening of the light engine might move the optics out of alignment. Both conditions will distort the output image.
The following photo shows the top side of the light engine. The flex cable connects the 0.45" DLP4500 DMD to the driver board. The DLP4500 is on the top at the end of the flex cable and behind the heat sink. The DLP4500, DMD heat sink, and flex cable are glued to the light engine. The connectors on the bottom are for the Red, Green, and Blue LEDs.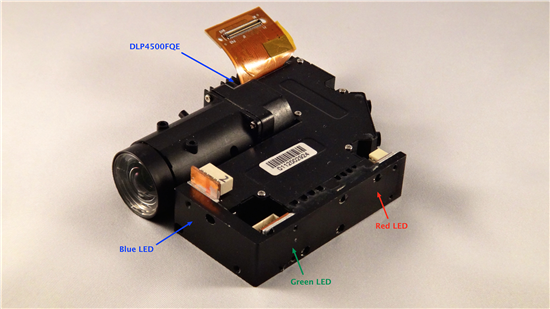 Disassembling the light engine is fairly straightforward with the focus portion screwed on the light engine. The focus optics are held to the light engine with the four screws around it. The rest of the internals of the light engine can be seen by removing the top plate.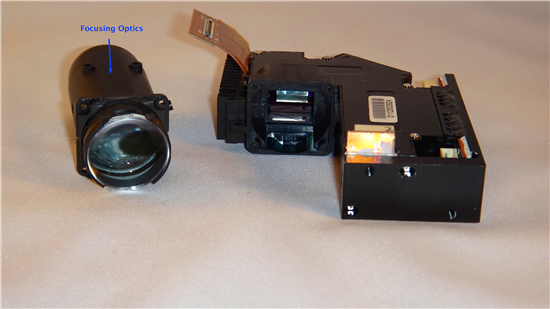 Each LED has an optical collimator to collect the wide beam of light from the LED and produce a narrower beam. This narrow beam of light passes through a set of dichroic mirrors that reflect a specific color of light while letting other colors of light pass through it. The dichroic mirrors recombine the different colors of light into one co-linear beam. The recombined light passes through a fly-eye and condenser lens that provides uniform light intensity. The light bounces of a mirror and passes through a total internal reflection (TIR) prism. The light is directed towards the DLP4500 DMD and goes through the focus optics.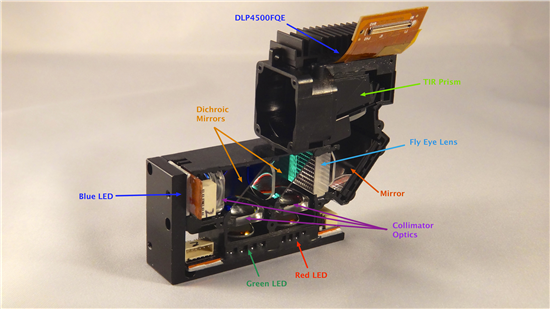 The next image shows the paths of the red, green, and blue light. Note that the TIR prism has been removed.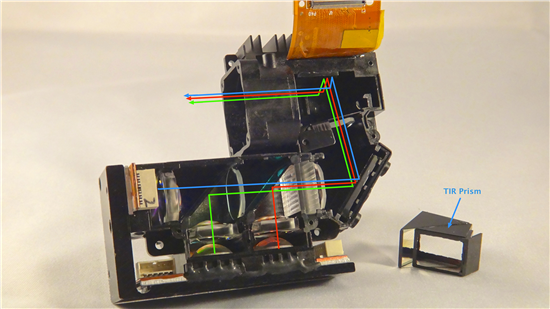 The LED used in this engine are:
Red LED: OSRAM LE A Q9WP
Green LED: OSRAM LE CG Q9WP
Blue LED: OSRAM LE B Q9WP