Part Number:
BOOSTXL-BUCKCONV
Other Parts Discussed in Thread:
OPA353
I have this BOOSTXL-BUCKCONV with Lanchpad F28379D as my setup.
HW setup:
- 200KHz PWM frequency
- ILFB (Inductor current feedback, unfiltered) pin for sensing current - : H2[9]
- VoutFB (Output voltage feedback) pin no: H2[7]
- Using constant 20% PWM Duty cycle with updown counter mode and triggering ADC start of conversion at "Mid of PWM" (Counter is equal to period)
- ADC End of Conversion is used to trigger controller algorithm
- Only static load (RL = 7.5 ohm, active load is off)
Issues: At 20% PWM constant duty
With only Single MOSFET: (Only switch 1, Switch 2 is turned off)
- We expect inductor current (triangular wave) to be in sync with PWM ON time. But we see 616ns delay (between PWM ON transition and inductor current starting to rise)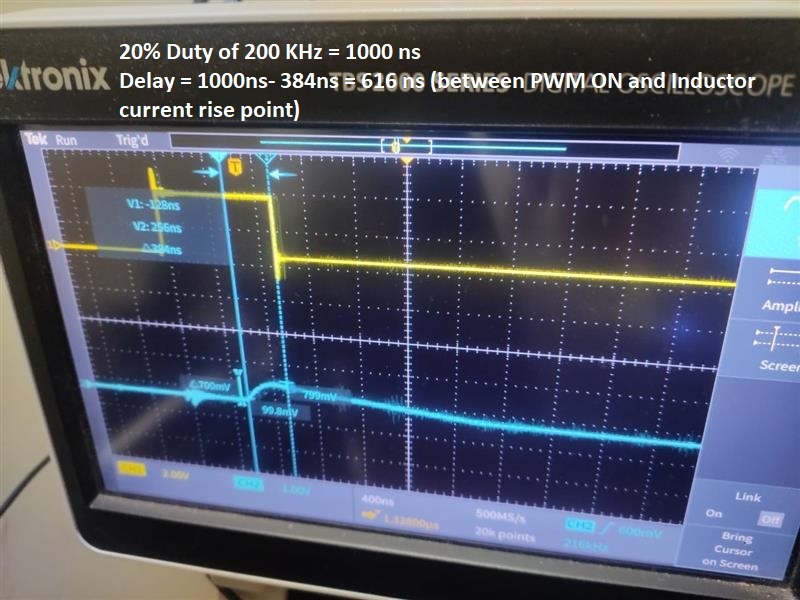 With both MOSFET is used:
- Above delay is 856ns delay (between PWM ON transition and inductor current starting to rise)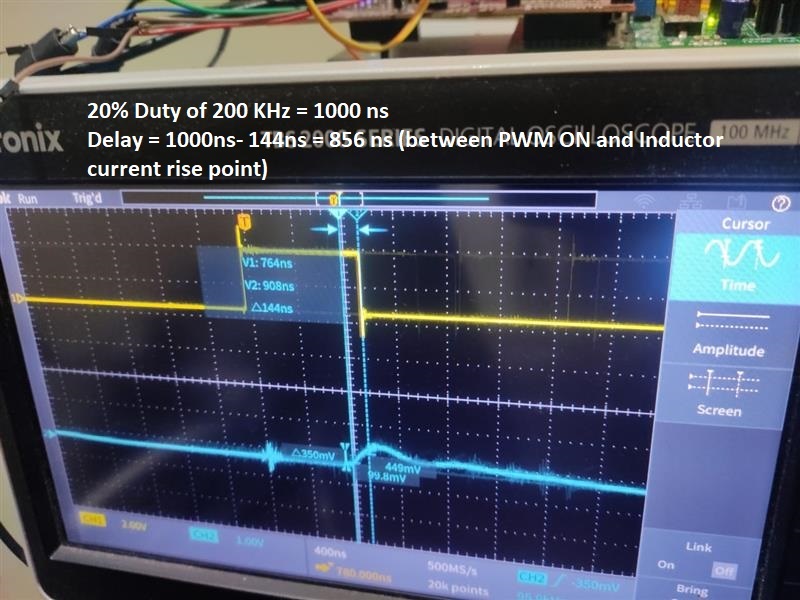 The above delay reduces as we go on increasing PWM duty cycles. For ex: For 30% duty, delay is around 312ns with single MOSFET.

Questions:


Why we see this significant delay. From the datasheet PWM gate driver and MOSFET can contribute around 82ns.
Why this delay varies with respect to PWM ON time?
Is that ok to use single MOSFET or do we need to use both MOSFET always (2nd is complimentary)
Also, we see this delay varies with active load enabled and disabled. With active load (effective RL = 1.5789 ohm) enabled, above delay reduces.
Why inductor current is not increasing linearly, this is important to understand to sense the correct average current.
Also, as we see from image PWM ON time is 1us and we expect inductor current to rise for 1us and this is not happening in HW. Inductor current rises for a smaller time compared to PWM ON time.
These questions are important for us, since we try to rely on reading the average current using only with PWM-ADC synchronization and not with any CMPSS (analog sensing).