Hello,
I use a Texas Instruments F28335 ControlCARD with CCS v5. I've configured everything in Matlab to create C-Code for the Controller.
Now, I want to use the External Mode over Serial Communication (USB). There is a good help in the Matlab Documentation help
I follow the instruction, but at point four I can't go on:
"4. Navigate to the Coder Target > Groups > External mode"
I have no subitem "external mode"!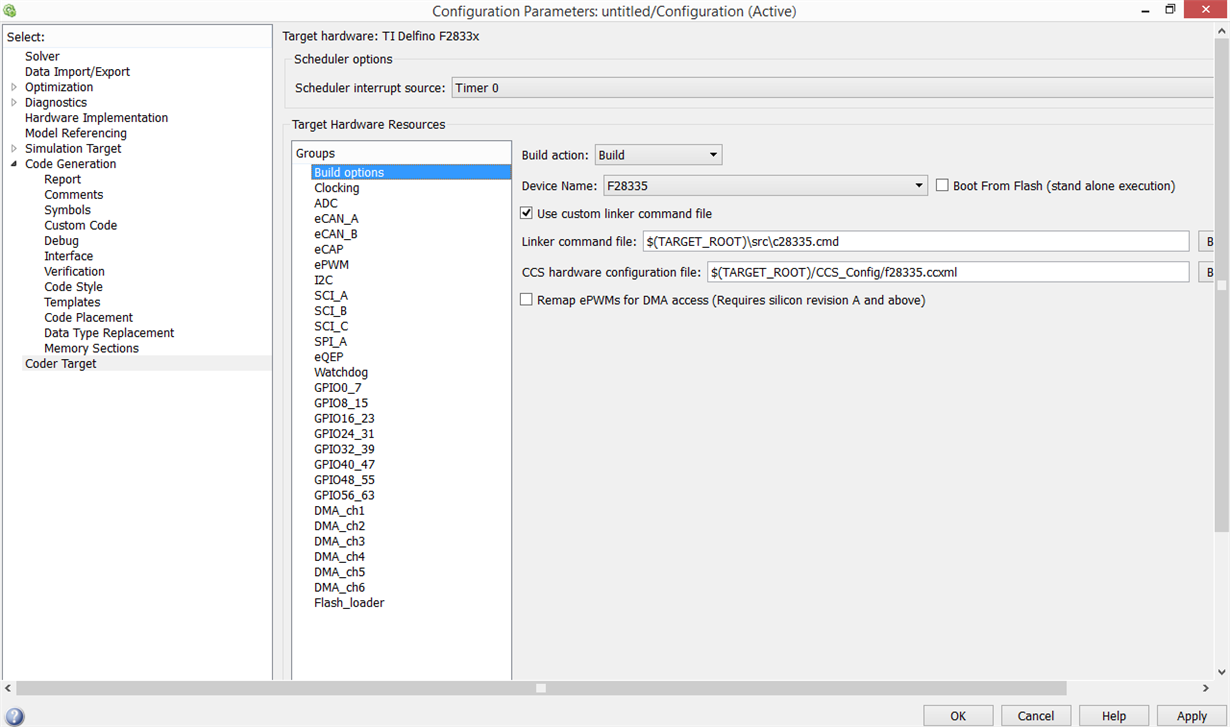 What is the reason for that? Is there any step in the instruction or any toolbox missing?
Additional: I've a student license with the following toolboxes:
MATLAB Version 8.4 (R2014b)
Simulink Version 8.4 (R2014b)
Aerospace Blockset Version 3.14 (R2014b)
Aerospace Toolbox Version 2.14 (R2014b)
Bioinformatics Toolbox Version 4.5 (R2014b)
Communications System Toolbox Version 5.7 (R2014b)
Control System Toolbox Version 9.8 (R2014b)
Curve Fitting Toolbox Version 3.5 (R2014b)
DSP System Toolbox Version 8.7 (R2014b)
Data Acquisition Toolbox Version 3.6 (R2014b)
Embedded Coder Version 6.7 (R2014b)
Fixed-Point Designer Version 4.3 (R2014b)
Fuzzy Logic Toolbox Version 2.2.20 (R2014b)
Gauges Blockset Version 2.0.9 (R2014b)
Global Optimization Toolbox Version 3.3 (R2014b)
Image Acquisition Toolbox Version 4.8 (R2014b)
Image Processing Toolbox Version 9.1 (R2014b)
Instrument Control Toolbox Version 3.6 (R2014b)
MATLAB Builder EX Version 2.5.1 (R2014b)
MATLAB Builder JA Version 2.3.2 (R2014b)
MATLAB Coder Version 2.7 (R2014b)
MATLAB Compiler Version 5.2 (R2014b)
MATLAB Report Generator Version 4.0 (R2014b)
Model Predictive Control Toolbox Version 5.0 (R2014b)
Neural Network Toolbox Version 8.2.1 (R2014b)
OPC Toolbox Version 3.3.2 (R2014b)
Optimization Toolbox Version 7.1 (R2014b)
Parallel Computing Toolbox Version 6.5 (R2014b)
Partial Differential Equation Toolbox Version 1.5 (R2014b)
RF Toolbox Version 2.15 (R2014b)
Real-Time Windows Target Version 4.5 (R2014b)
Robust Control Toolbox Version 5.2 (R2014b)
Signal Processing Toolbox Version 6.22 (R2014b)
SimDriveline Version 2.7 (R2014b)
SimMechanics Version 4.5 (R2014b)
SimPowerSystems Version 6.2 (R2014b)
SimRF Version 4.3 (R2014b)
Simscape Version 3.12 (R2014b)
Simulink 3D Animation Version 7.2 (R2014b)
Simulink Coder Version 8.7 (R2014b)
Simulink Control Design Version 4.1 (R2014b)
Simulink Design Optimization Version 2.6 (R2014b)
Simulink PLC Coder Version 1.8 (R2014b)
Simulink Real-Time Version 6.1 (R2014b)
Simulink Report Generator Version 4.0 (R2014b)
Simulink Verification and Validation Version 3.8 (R2014b)
Stateflow Version 8.4 (R2014b)
Statistics Toolbox Version 9.1 (R2014b)
Symbolic Math Toolbox Version 6.1 (R2014b)
System Identification Toolbox Version 9.1 (R2014b)
SystemTest Version 2.6.8 (R2014b)
Wavelet Toolbox Version 4.14 (R2014b)